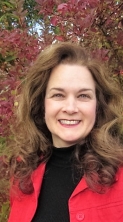 Where are the kids?
Posted on October 17, 2016
Needing to get some fresh air and calm down after watching the Seahawks win a nailbitter of a game, I walked down to a local park. It's a big park with lots of tress but also wide open spaces with ball fields. While I sat on swing and dangled my feet I noticed a boy of about 10 years old riding his bike around the park. I walked on and noticed I was the only other person out on this Sunday afternoon.
Walking back home I crossed the park once again. This time I saw the same boy standing in the middle of a grassy field throwing a football into the air and catching it. Then he'd throw a nice spiral into the distance, retrieve it and do it again. That was when I began to wonder where all the neighborhood kids were. Here he was offering his ball and looking for someone to play catch with. If I were 40 years younger I would have offered to play, even though I am not good with throwing or catching a football.
I wondered if this was how Russel Wilson started out, eager to play ball with whoever was willing and able. This boy was enjoying the outdoors, following his passion and hoping to meet other kids doing the same. I can't be certain, but my guess is those kids were inside playing hours of video games unaware of the opportunities outside their doors.
How helpful is this web page to you?
not helpful
very helpful