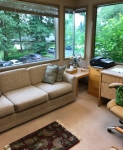 Send Email
Location
2105 112th AVE NE Suite: Suite #200
Bellevue, WA
98004
(425) 761-9050
Ref: 1628
Office Description:
Located in the Bellewood Office Park, next to the Boys/Girls Club in Hidden Valley Park in Bellevue, multiple spaces available for sublease on either hourly or daily rates. Clean, quiet and lots of parking. Easy access to both I 405 and 520. Please contact Cheryl Cohen (425) 454-3209 Kathy Sloan (425) 455-9416 Renee Sanford (425) 681-3123
Availability:
Weekends, Mondays, Friday and various hours available. Please contact office holder to inquire about specific availability.
Contact:
Steve Anderson
2105 112th AVE NE Suite: Suite #200
Bellevue, WA
98004
(425) 761-9050
Call or email Steve Anderson for more information. (425) 761-9050 .