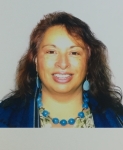 Send Me an Email
Visit our Website
Location
Aquas Sagradas/Sacred Waters Healing & Consulting Services
3225 California Avenue SW
Seattle, WA
(530) 459--811
Ref: 1683
Practice Overview:
My practice focus is multi-systemic in its approach. I am offering a bi-monthly Consult Group for Clinicians of Color on Friday mornings and currently receiving applicants for open spots. Facilitating a weekly, mixed gender group for 11-13 year olds, receiving referrals. Offering phone and individual supervision. Seeing children, parents, youth and individual adults through a bicultural, bilingual, Attachment-focus, Family Systems, Creative-Arts and Reflective lens.
Supervisory Approach:
As a Reflective, bicultural and bilingual Supervisor, with many years in the field and a good foundation as a supervisor, I have supervised Master''s level students, new clinicians and seasoned clinicians. At each level we have our learning edges and it is important to define those and the Supervisee's learning goals to establish the best ways to guide, encourage and offer support. I provide individual (phone or in-person) and group supervision. I am currently filling spaces for a bi-monthly consult group for Clinicians of Color. I also have room for a few more Supervisees.
Call or email Maiah Merino for more information. (530) 459--811
Niche Specialty
My Qualifications:
Years in Practice: 18 Years
School: Bastyr University/The Leadership Institute of Seattle
Year Graduated: 1998
License No. and State: LH 60164735 WA
Additional Credentials:
Child Mental Health Specialist (CMHS)
Ethnic Minority Specialist--Latino and Native American
Years Counseling:
18
Currently Supervising:
1 Licensed Associates
Supervision Fee:
Hourly $125
Group Hourly $100
Supervisory Training:
15 CEU's Supervisory Training
18 CEU's Advanced Supervisory Training