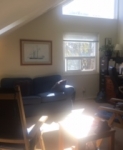 Send Email
Location
2800 E Madision Suite: 306
Seattle, WA
98112
(206) 323-7323
Ext: 3237323
Ref: 1715
Office Description:
LARGE office space w/ large windows and skylight - great light all seasons. Clients often comment on it. Large enough to run a group. Has own thermostat. wireless modem. In Madison Valley across from Viola restaurant, about Luc, close to Cafe Flora. Parking is easy and free. Bus stops at corner. Third floor, no elevator. Newly painted. Good building management. Available Fridays through Sundays , possibly some evenings. I have an 18 month lease and will be leaving at the end of that period. Great colleagues on the floor. Possibility of overflow referrals. My lease is $1300/mo. Fridays $200/mo. Fri and Sat $300/mo.
Availability:
Fridays and weekends. Possibly after 6:15pm evenings ($20/hr). Must be licensed.
Contact:
Ross Mayberry PhD
2800 E Madision Suite: 306
Seattle, WA
98112
(206) 323-7323 Ext: 3237323
Call or email Ross Mayberry PhD for more information. (206) 323-7323 Ext: 3237323 .