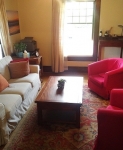 Send Email
Location
5426 California Ave
Seattle, WA
98136
(206) 200-8763
Ref: 1818
Office Description:
West Seattle beautiful counseling office in Craftsman style house. Waiting room, bathroom, staff kitchen and wifi included. Located near Alaska junction. $450 a month for 3 days a week or $390 a month for 2 days a week. Available days are Thursday, Friday, Saturday and Sunday.
Availability:
Office available Thursdays, Fridays, Saturdays and Sundays
Contact:
Lori Spears
5426 California Ave
Seattle, WA
98136
(206) 200-8763
Call or email Lori Spears for more information. (206) 200-8763 .