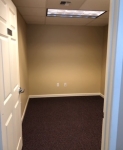 Send Email
Location
7301 5th Ave. NE Suite: Suite B
Seattle, WA
98115
(425) 443-5426
Ref: 2141
Office Description:
Office space available near Green Lake. Five minute walk from Green Lake and two minute walk from Green Lake Village. Three office suite with furnished waiting room, bathroom and storage closet. Office is 8 ft x 10 ft with tan walls, white trim and purplish carpet. Perfect space for working with individuals and perfect location for walking Green Lake during your lunch. Rent is $600/month plus $25 towards electric bill, cleaning and bathroom supplies.
Availability:
Contact:
Jennifer Kessler
7301 5th Ave. NE Suite: Suite B
Seattle, WA
98115
(425) 443-5426
Call or email Jennifer Kessler for more information. (425) 443-5426 .