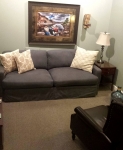 Send Email
Location
627 5th St Ste 101 Suite: 101B
Mukilteo, WA
98275
(425) 374-0141
Ref: 2248
Office Description:
Office Space for Lease in beautiful old town Mukilteo. 210 sq. ft. of fully furnished office space on the main floor, available to mental health practitioner. Includes Wi-Fi & utilities, shared restroom, shared waiting area. Referral potential from well-established mental health practice. Close to Boeing, the ferry, coffee houses, eateries and boutiques, waterfront and lighthouse, and just minutes from Everett. Public parking is available in front of the building. Available Friday, Saturday, and Sunday. $325 a month for one day per week, $375 a month for two days per week, and $425 for three days per week.
Availability:
Available Friday through Sunday. Each day of rental grants access for 24 hours.
Contact:
Angela Figgins
627 5th St Ste 101 Suite: 101B
Mukilteo, WA
98275
(425) 374-0141
Call or email Angela Figgins for more information. (425) 374-0141 .