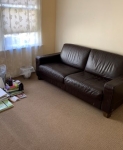 Send Email
Location
2012 NE 65th Street
Seattle, WA
98115
(206) 550-8291
Ref: 2518
Office Description:
Psychotherapy office sublet available in North Ravenna near 3rd Place Books at NE 65th Street & 20th Ave NE. Partially furnished and open to décor ideas. Rate is 95-165/day/month, depending on the day. Professional building with lobby, staff space, restroom, and plentiful street parking.
Availability:
Available Mondays all day, Tuesdays all day, Wednesdays till 5pm, and Thursdays till 2pm.
Contact:
Robyn Trevitt
2012 NE 65th Street
Seattle, WA
98115
(206) 550-8291
Call or email Robyn Trevitt for more information. (206) 550-8291 .