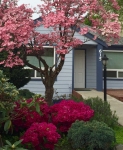 Send Email
Location
615 W Titus St
Kent, WA
98032
(253) 854-2286
Ref: 2564
Office Description:
Two furnished offices are available for rent in a renovated house in downtown Kent. Three other offices are owner-occupied and work in behavioral health. Utilities, local fax, wi-fi, printer/copier, heating/cooling, monitored security, and a kitchen are included. One office is approximately 100 sq. ft. and the other is 130 sq. ft. . Smaller office rents for one day per week at $220/month. Larger office rents for one day per week at $250/month. Starting July 1, the smaller office is avaiable any day, Monday - Saturday, while the larger office is available any day except Tuesday. A 12-month lease required. In addition, a security deposit is required equal to 2 months rent. An annual fee towards insurance liability for the building itself (slip & fall sort of insurance) is assessed yearly. The fee is usually between $50-$70 based on the number of renters and the cost of policy which we divide equally.
Availability:
Offices are available 7am to 10 pm, Monday through Saturday.
Contact:
Anne Riley
615 W Titus St
Kent, WA
98032
(253) 854-2286
Call or email Anne Riley for more information. (253) 854-2286 .