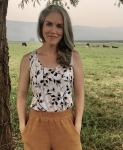 Send Me an Email
Visit our Website
Location
Just Living Therapy & Consultation
9000 Campbell Road
Toppenish, WA
(509) 969-9120
Ref: 2613
I provide online counseling sessions using Zoom.
Practice Overview:
Hi! My name is Rebecca. I absolutely love clinical supervision and if you're a fellow mental health professional looking for supervision to get your license, or you're licensed and are invested in professional development, then right on! I provide clinical supervision and consultation for social workers, professional counselors, and marriage and family therapists both licensed and unlicensed. You will have access to both individual and group supervision, a network of some amazing professionals also walking through this process, as well as training and retreat opportunities throughout the year. My practice strives to keep the amazing professionals in this work, because this work is hard work and we need to surround ourselves with those that keep us healthy and excited to make a difference.
Supervisory Approach:
I utilize a Trauma-informed, Humanistic, Strengths based and Anti-Oppressive and Anti-Racism approach in my supervisory practice. We will also hone in on what specific therapeutic modality connects best with your work/approach and incorporate study of a variety of approaches, ethical review, cultural humility, the wonderful "imposter syndrom," DSM-5, licensure regulations and more.
SO! This is likely for you if you're highly motivated to significantly deepen your skillset, develop awareness of your authentic self in this work, and committed to doing excellent work that will change lives. Schedule a free 30-minute consultation to learn more!
Call or email Rebecca Lee for more information. (509) 969-9120
Video Platforms I utilize:
Niche Specialty
Social Work/Counselor Development
My Qualifications:
Years in Practice: 12 Years
School: Eastern Washington University
Year Graduated: 2010
License No. and State: LW 60859810 WA

Years Counseling:
12
Currently Supervising:
16 Licensed Associates
Supervision Fee:
Hourly $90
Group Hourly $55
Supervisory Training:
20 CEU's Supervisory Training
15 CEU's Advanced Supervisory Training