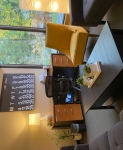 Send Email
Location
1800 112th Ave NE Suite: Suite 240W
Bellevue, WA
98004
(425) 647-5321
Ref: 2619
Office Description:
Spacious and modern office now available for rent on Fridays, Saturdays and Sundays just outside the heart of Downtown Bellevue on 112th Ave NE across from Hidden Valley Boys and Girls Club. This office is located in the Park Heights building and is in a private establised suite with other LICSW, LMHC, LMFT and PhD. Amenities include waiting room, private exit, water service, WIFI, kitchen with sink/refrig/freezer/Kuerig, file room and in-office printer. Light and bright office with north facing windows on second floor. Available beginning Nov 1st.
Friday is $230, Saturday and Sunday are $200 per day per month, all amenities are included in rent. Security deposit required, refundable upon move out. For more information, please email Janett at janett@janettflodstrom.com

Availability:
Friday, Saturday and Sunday all day.
Contact:
Janett Flodstrom
1800 112th Ave NE Suite: Suite 240W
Bellevue, WA
98004
(425) 647-5321
Call or email Janett Flodstrom for more information. (425) 647-5321 .