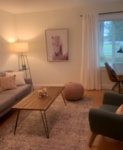 Send Email
Visit our Website
Location
9918 284th Ave NE Suite: Suite A
Carnation , WA
98014
(206) 310-0250
Ref: 2681
Office Description:
Mountain Valley Psychological Services is a group of independent therapists located in the beautiful Snoqualmie Valley (just 10 minutes from Redmond, 30 minutes from Seattle). We are looking for a fully Licensed Psychologist or Master's Level Clinician to share our space. The office is located on a gorgeous ranch, and includes the unique opportunity to integrate nature, outdoors, and/or animals into the therapy work (as appropriate). Furnished office available with all amenities of a home, including a waiting room, full kitchen, bathroom, and garden. Options for supervision or peer consultation. Rental rates vary depending on part or full time. We are an open and welcoming community. Qualified applicants will receive consideration without regard to race, color, religion, gender, gender identity or expression, sexual orientation, national origin, genetics, disability, age, or veteran status.
Availability:
Part or full time options. Possibility for evenings or weekends
Contact:
Stephanie Pickering
9918 284th Ave NE Suite: Suite A
Carnation , WA
98014
(206) 310-0250
Call or email Stephanie Pickering for more information. (206) 310-0250 .