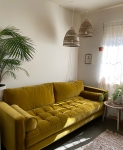 Send Email
Location
600 N 36th St Suite: 323
Seattle, WA
98103
(206) 434-0180
Ref: 2858
Office Description:
Cozy, plant and light filled office in the heart of Fremont. Located in the Space building, office is easy walking distance to shops, stores, and bus lines. Sink in office. All utilities and Wi-Fi included in rent. 

I will be taking a leave of absence from my practice for three months starting in March and the office will be available full time for $650/month. This could be a good opportunity for someone who is thinking about renting their own space but is not quite ready to cover the overhead costs. I would prefer to find a tenant who is doing telehealth sessions only right now, as the office is not set up for in-person clients, but I am open to discussing other options, the only caveat is you would need to provide a chair/small couch for clients to use. 
Availability:
If you are interested in using the office only part time, I am open to negotiating the specific days you would need at the rate of $150/day/month, but will give priority to whomever is interested in subletting the most number of days. Once I return to my practice, I can be flexible on what days/times I will need to use the space, and would be happy to have a long-term subletter as well. 
Contact:
Alexandra Steen
600 N 36th St Suite: 323
Seattle, WA
98103
(206) 434-0180
Call or email Alexandra Steen for more information. (206) 434-0180 .