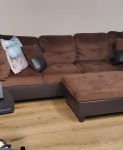 Send Email
Visit our Website
Location
909 West Main Street Suite: Suite 108
Monroe, WA
98272
(253) 961-6277
Ext: none
Ref: 2870
Office Description:
I have a beautiful space in a secured building in the heart of Monroe, WA I am looking to share. The space has its own lobby, and the main office space is large enough to accommodate capabilities for things like play therapy, art therapy, etc. I am offering a great deal at $90.00 per day (i.e., Tuesday 7AM to 7PM, for example). You cover your own materials, but it's fully decorated with a mini fridge/freezer combo and a microwave! The building also has a shared kitchen space and a bathroom nearby. This is available month-to-month but is also available long-term. Professionals only please! I look forward to hearing from you – loriwolff@harmonyintranquility.org or text (253) 961-6277.
Availability:
The office is avaiable Tuesday, Wednesday, Thursday, some Fridays, and Saturday, Sunday. No specific restrictions on that day's hours (i.e. that would be your decision/based on your companies hours).
Contact:
Lori Wolff
909 West Main Street Suite: Suite 108
Monroe, WA
98272
(253) 961-6277 Ext: none
Call or email Lori Wolff for more information. (253) 961-6277 Ext: none .