Telemedicine is here to stay
Posted on July 20, 2020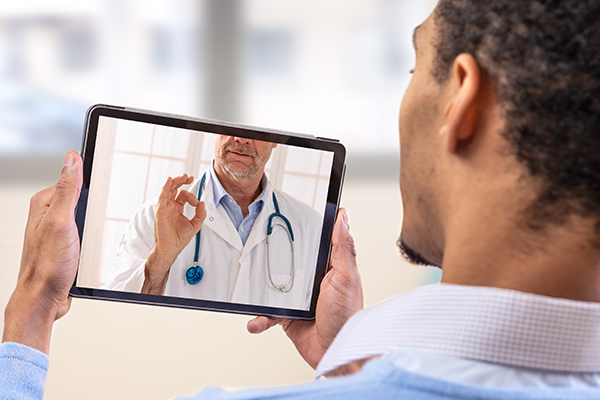 It's hard to imagine that the devastating pandemic we're living through could possibly have a silver lining, but I think I've found one: telemedicine.
Traditionally, health care has been notoriously slow to change and tied to antiquated technologies. What other industry is still using pagers or fax machines? And yet, here we are, our care to patients still dependent upon out-of-date hardware.
Enter COVID-19, a time of crisis for our health-care system like none other in more than 100 years. Out of that calamity, innovation came swiftly with the far-reaching implementation of telemedicine — in the works for years — launching us all, physicians and patients, well into today's technology. What exactly is telemedicine? Simply put, it's the use of video technology to deliver care remotely.
We may once have had our misgivings or doubts about how it would work. In my experience over these past months, I find that it hearkens back to my early doctoring days, when I still made house calls on chronically ill patients who couldn't make it out of their homes. Today, with telemedicine, I am able to visit with my patients in their homes, and sometimes that can make all the difference...
For the foreseeable future, we will continue to live with the coronavirus in our lives. The impact it has had on how care is delivered and received will be lasting — particularly in expediting the transition to more patients receiving care remotely.
These are all great reasons to look forward to telemedicine as a vital option in our doctor's bag.

But one hurdle yet to be addressed: payment parity.
I'm grateful that the state Legislature saw fit to approve Senate Bill 5385 in this year's legislative session. This new law requires that starting Jan. 1, 2021, physicians will be paid for telemedicine services at the same rate as if those services had been provided in the physician's office. That's only fair because when physicians treat patients via telemedicine, we're using the full complement of our education and training.
With the onset of the pandemic, Gov. Jay Inslee issued a proclamation that temporarily implemented SB 5385 ahead of schedule, currently extended through June 17. Further action will be needed to extend it through the end of the year, though I was heartened to see that he included support for telemedicine in a recent proclamation easing restrictions on health services, and I do hope the Legislature agrees to an extension.
To create a level playing field for telemedicine, action is also needed at the federal level because health plans offered by large businesses can't be regulated by the state. U.S. Rep. Kim Schrier (D-Issaquah) has introduced H.R. 6644 to require self-insured Employee Retirement Income Security Act (ERISA) health plans to pay at parity during the pandemic.
As a member of the Washington State Medical Association, which represents physicians and physician assistants, I support their advocacy on this issue. Right now, the WSMA is urging public and private health-care policymakers to prioritize policy that facilitates use of telemedicine technologies.
WSMA also advocates for equal payment for another common remote technology: telephone visits. While not generally considered telemedicine, telephone visits are frequently used by physicians for some routine services, especially those delivered to the elderly, to people living in rural areas with poor broadband connections, and to those who may not have access to or prefer not to use a computer. Like telemedicine, telephone consults have become a vital strategy used by physicians to deliver patient care during the coronavirus outbreak.
Setting up telemedicine programs used to be a long process but didn't necessarily need to be. With the pressure of COVID-19, we were able to implement at lightning speed. If COVID-19 has taught us anything, it's that we need to be nimble, meet our patients where they are and ensure access to care for all. Telemedicine is one way we can do that.
Jillian Worth is a primary-care physician at Virginia Mason Medical Center's Bainbridge Island clinic. Opinon, Seattle Times, June 15, 2020.
ANNOUNCEMENT:
Washington State starts a new mental health support program
To help Washingtonians cope with the stress of the COVID-19 pandemic, the State Health Care Authority has instituted a new mental health support program know as "Washington Listens," It includes an anonymous phone line that will connect callers with support specialists and community resources for assistance in managing stress related to the pandemic.
"Washington Listens helps people cope and strengthen their resilience in these uncertain times," Sue Birch, director of the Washington State Health Care Authority, said Monday in a news release announcing the program's launch.
"It complements the state's behavioral health response services by proving an outlet for people who are not in crisis but need an outlet to manage stress."
The support line can be reached by calling 1-(800)-681-0211 between the hours of 9 a.m. and 9 p.m. on weekdays and from 9 a.m. to 6 p.m. Saturdays and Sundays.
When you call, tell them you found the number on Counseling Washington (counselingwashington.com) .
SEE ALSO:
More Mental Health Articles
Sexual Bias Articles
Race Relations Articles
How Drugs and Alcohol Affect the Brain and Body
WA. Counselor Directory: find a therapist near you
How helpful is this web page to you?
(and how can we can improve this page for you?)
not helpful
very helpful
Other Articles
Webmaster comment: A few weeks ago, I had trouble sleeping. With the stay-at-home orders from governors and the president, and the social-distancing movement saying to stay 6 feet apart, to... read more