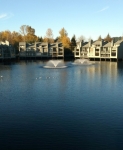 Send Email
Location
40 Lake Bellevue Drive Suite: #220
Bellevue, WA
98005
(425) 681-7996
Ref: 1759
Office Description:
Lake Bellevue Sublease Looking for a good fit therapist to share my quiet office in our positive, relaxed, professional suite overlooking our tranquil lake in a highly desirable Class A bldg, 40 Lake Bellevue Drive. Spacious 220SF room elegantly furnished with large windows, great view & light, large enough for small group work. Shared artful reception area, full furn kitchen, tea, water, copier, sound cancelling machines, music, some storage. Free prkg, elev, ADA access, secure after hour/evening entrance. 1+ blk to 116th, NE8th, I405, bus line. Many great downtown Bellevue amenities nearby. Avail Th/Sat/Sun. $215/day/mo, 3 day disc avail. Very favorable rate compared to exec suites in building and other nearby available subleases. Contact Veronica incourage@hotmail.com
Availability:
Thurs, Sat, Sunday, any hours.
Contact:
Veronica Connolly-Bagshaw
40 Lake Bellevue Drive Suite: #220
Bellevue, WA
98005
(425) 681-7996
Call or email Veronica Connolly-Bagshaw for more information. (425) 681-7996 .