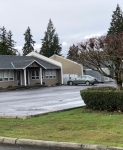 Send Email
Visit our Website
Location
314 182nd Ave E Ste Suite: C
Lake Tapps, WA
98391
(253) 455-1676
Ref: 2032
Office Description:
Rent your own private office month to month or 6 month lease in excellent Lake Tapps, WA location for $650 per month. Located close to Lake Tapps Parkway stores, the 40,000 plus populated Lakeland community,and the thriving Lake Tapps Community. On Pierce/King border so close to Auburn, Sumner, and Bonney Lake also. In safe, busy, friendly small business location with surrounding businesses such as a chiropractor, massage therapy, Lake Tapps Wellness Center, Surge Dance Center, a real estate and insurance office, preschool, Kumon tutoring, a coffee stand etc. The office is in a large business space where there is 2 nice counseling rooms, a large waiting room (to do group therapy in if you want), a back break room and a private bathroom. They just finished painting and remodeling and is ready NOW!! Can move in now for reduced December rate.
Availability:
One office will be available ideally on a 6 month lease, but can do month to month. Asking $650 per month. The other office will be occupied by me and I will lease it out all day and evening Friday, Saturday and Sunday and weekday evenings from 6pm on. Price is negotiable depending on how many days
Contact:
Wendy Tate
314 182nd Ave E Ste Suite: C
Lake Tapps, WA
98391
(253) 455-1676
Call or email Wendy Tate for more information. (253) 455-1676 .