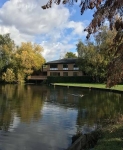 Send Email
Location
20006 Cedar Valley RD Suite: Suite #101
Lynnwood, WA
98036
(206) 399-9477
Ref: 2404
Office Description:
One beautiful professional office located on a tranquil lake in the heart of Lynnwood. Ideal for therapists or other professionals. First Floor Office: 168 sq ft for $485. Waiting room and restrooms in common area. Offices are located on a corner with good visibility. All utilities included except phone/internet. Plenty of parking. Call Dwight at 206-399-9477 for more information. Available June 1st. First and Security Deposit required. 1 Year lease preferred.
Availability:
This is full-time space only. The building is open 7 days a week.
Contact:
Dwight Thompson
20006 Cedar Valley RD Suite: Suite #101
Lynnwood, WA
98036
(206) 399-9477
Call or email Dwight Thompson for more information. (206) 399-9477 .