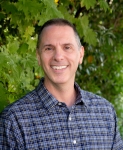 Send Me an Email
Visit our Website
Location
6957 California Avenue SW
Seattle, WA
(206) 938-5947
Ref: 2778
I provide online counseling sessions.
Practice Overview:
I'm Elliot Grossman and I've been a Mental Health Professional for over 25 years. I've worked in both inpatient and outpatient settings and in both large public agencies and small private practices.  I've worked with well over a thousand clients of all ages and felt it and honor and privilege to work with each.
There are relatively few Mental Health challenges that I have not worked with in the span of my career as a therapist.  And while every individual, couple, or family has unique needs I approach every case through the lens of an agent of change. I view therapy as a collaboration between the client and the therapist to first identify and clarify things that need to change and then to develop and implement a plan to affect that change.
Supervisory Approach:
I am primarily a cognitive behavioral therapist.  This means that I focus largely on the role one's thoughts and behaviors contribute to their mental health.  I try to help clients identify and change the types of thoughts that can leave them feeling anxious, pessimistic, and dis-empowered and replace them with thoughts that promote hope, inner peace, and a sense of well being.
We offer supervision for one or two associates at a time.
Call or email Elliot Grossman for more information. (206) 938-5947
Niche Specialty
My Qualifications:
Years in Practice: 30+ Years
School: University of Washington
Year Graduated: 1996
License No. and State: LW00005421 WA

Years Counseling:
30+
Currently Supervising:
2 Licensed Associates
Supervision Fee:
Supervisory Training:
30+ CEU's Supervisory Training
30+ CEU's Advanced Supervisory Training