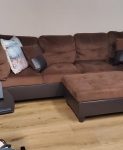 Send Email
Visit our Website
Location
909 West Main Street Suite: Suite 108
Monroe, WA
98272
(253) 961-6277
Ext: none
Ref: 2870
Office Description:
Looking for an office to sublet?
I would love to share my beautiful office space with a like-minded professional who is looking for a reasonably priced and secure space to enjoy. My suite is in a secure building in the heart of Monroe, WA. The space has its own lobby, and the main office space is large enough to accommodate variable options. I am offering a great deal at $550 per month for up to 5-days per week (TUES-SUN options), or $80/day. There is a hot spot available for internet and it's fully decorated with a mini fridge/freezer combo and a microwave! The building also has more than one bathroom close to the suite. There is parking behind the building for those leasing the spaces within the building. This space is available month-to-month and is available long-term. Professionals only please! I look forward to speaking further if you have interest. My contact information is: loriwolff@harmonyintranquility.org or text/call (253) 961-6277.
Availability:
The office is avaiable Tuesday, Wednesday, Thursday, some Fridays, and Saturday, Sunday. No specific restrictions on that day's hours (i.e. that would be your decision/based on your companies hours).
Contact:
Lori Wolff
909 West Main Street Suite: Suite 108
Monroe, WA
98272
(253) 961-6277 Ext: none
Call or email Lori Wolff for more information. (253) 961-6277 Ext: none .