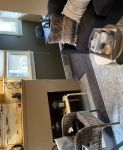 Send Email
Location
4425 Fremont Ave. N
Seattle, WA
98103
(206) 399-7741
Ref: 2904
Office Description:
A 1st floor office in a charming older home with rooms they converted into offices. It is in a great location in Freemont. You and your clients have access to a full kitchen and a bathroom. There is a waiting area outside of the office where they have art displayed. There is a tenant living in the back with whom you share the kitchen and bathroom.
Availability:
The office is available 7 days a week at all hours. You will have a key to the front door and office. There is also a lockbox code that you and your clients will use. Wi-Fi is included. The monthly rent is $600.
Contact:
Denise Wolf
4425 Fremont Ave. N
Seattle, WA
98103
(206) 399-7741
Call or email Denise Wolf for more information. (206) 399-7741 .