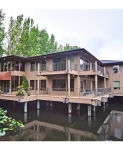 Send Email
Location
9 Lake Bellevue Dr. Suite: Suite 217
Bellevue, WA
98005
(425) 985-3019
Ref: 2912
Office Description:
2 Counseling Offices Available at 9 Lake Bellevue Dr. Central location accessible by all of the Eastside communities... great location for a developing or established practice with nearby light rail station close to completion. Offices are in a quiet suite remodeled by therapists to provide excellent privacy and confidentiality for clients with sound engineering throughout the space. Specifically designed to meet the needs of counselors and therapists with well-insulated walls and white noise in the ceiling, hallway, and waiting area. Office doors are also sealed tightly. Excellent location adjacent to Downtown Bellevue near Overlake Hospital, Group Health, and Whole Foods. Easy access to I-405, I-90, and 520. Free parking. All utilities included (Electricity, Internet). Water and tea provided in relaxing waiting area.
Availability:
The first, larger office is available part-time on Saturdays at $200/month per day.
The second, smaller office is available part-time on Wednesdays and Fridays at $170/month per day.
Contact:
Deven Shah
9 Lake Bellevue Dr. Suite: Suite 217
Bellevue, WA
98005
(425) 985-3019
Call or email Deven Shah for more information. (425) 985-3019 .